From an early morning sunrise at Bryce Canyon to the late afternoon glow in a small fishing village in Nova Scotia, it's all about the quest for unique light, the search for unusual perspective; the geometric forms half-hidden in nature; – These are the places that occupy a special spot in my imagination. Places that seem to suggest more than just another beautiful spot. Transcending conventional clichés of location, each photograph is more than a record of natural beauty. Within the image, a feeling of vanishing moments when light, tide, and time hold one's being in their grip and solicits a quiet and introspective moment that reflects the solitude of the work that I've done over the years.

For over 30 years I've used 4x5 and 2 1/4 cameras in my photography. Today I now use the Nikon D850 for the majority of my work but I still carry a Hasselblad CM in my backpack. For printing I have a Canon PROGRAF 24" Large Format Inkjet Printer and in this remarkable era of technology my photographs are created by hand, one at a time, by me, using a labor-intensive process, so you are getting a handcrafted print that matches what I envisioned when the image was captured. The images are produced using the highest quality professional papers available for fine art printing and the results are rich in stunning detail and image quality.
Originally from South Philly, for the last 16 years I have enjoyed living in the rolling hills of southern Chester County with my wife Karen and my German Shorthair Pointer, Briscoe, in the small town of Oxford, PA
PHOTOGRAPHIC AWARDS, HONORS & JURIED EXHIBITIONS
First place, The State Museum of Pennsylvania "Art of the State" 2015 juried exhibition.
First Place, Festival of the Arts, Bel Air, Md.
National Park Service: "Oneida Falls" chosen for their 2014 calendar.
A&M Press: Images from my "Temporal & Eternal" portfolio selected for publication
Outdoor Photographer magazine: "Elakala Falls" image and text published in the August issue.
Cowboys & Indians Magazine: Finalist in the 2016, 2013 and 2012 'Photographing The West' issues.
Wheaton Arts and Cultural Center: Juried Art Show.
The Perkins Center for the Arts: 4 images selected for exhibition.
Immaculata University: images selected for exhibition.
The Tyme Gallery: shared exhibition.
The Z Gallery: solo exhibition.
Vala Vinyards: solo exhibition
The Chadds Ford Historical Center: Juried Art Show
The Haddonfield Fine Arts Fair: Juried Art Show
The Rehoboth Art League: "Art is Healing, Healing is Art" exhibition
First Place, Delaware Valley Artist Guild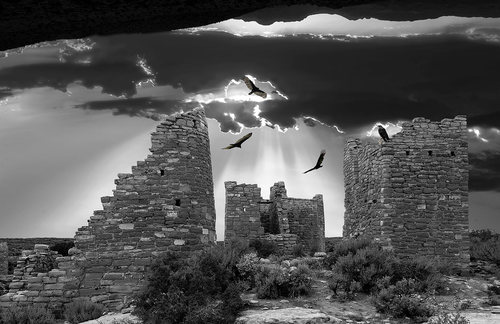 The silence of the place is unnerving. That echo you hear is the sound of blood pumping through your own temples. But if you are patient, you become gradually aware of the way juniper trees speak to the rock, how the wind whispers to the canyon walls and sunlight dances on yucca plants and sage. All the while Raven, the trickster, sores overhead with the rhythmic beauty of feathers on air.